Kia Motors Corp. churns out about 1,400 new cars every working day in Zilina, a city in Slovakia's northern industrial heartland. They all rely on gasoline or diesel.
Less than two hours away, PSA Group workers will reconfigure miles of assembly lines for Peugeots and Citroens to meet the impending electric car boom as long as the plan is approved by management. A Jaguar plant being built in the west of the country might produce batteries, though it wasn't included in the original plan.
Slovakia makes more cars per person than anywhere else in Europe. It depends on automotive factories for about a third of its exports, yet the only e-cars are at Volkswagen AG's facility in the capital, Bratislava. Now there's a growing sense that the country needs to keep up or it will lose out.
"It's going to take a lot of power to transform this industry and if only for the sake of security — national security — we should have it," said Peter Badik, who owns a company that has 27 charging points in the country. "We should be in the first row of the debate and we're not."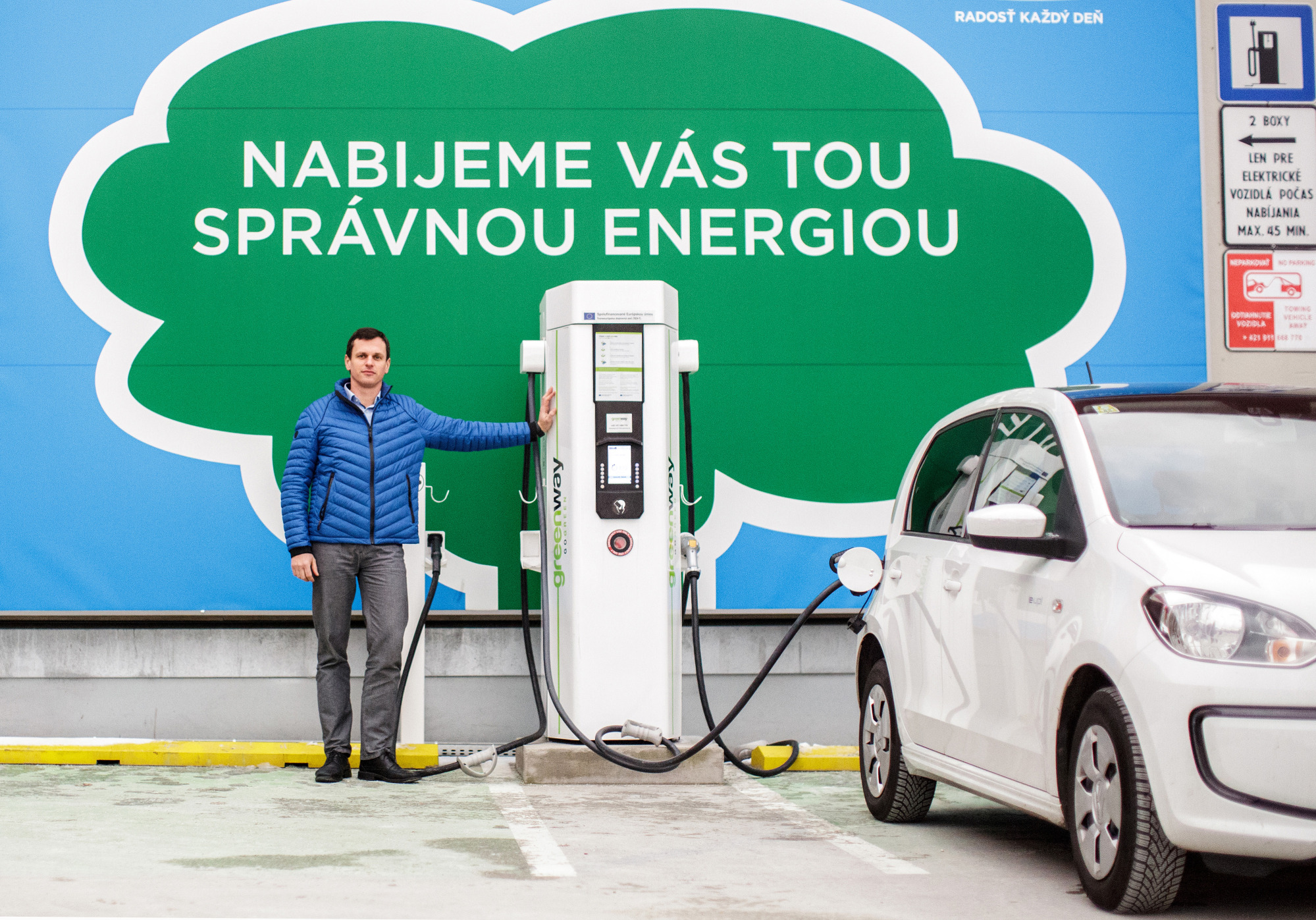 The region from Estonia in the north to Bulgaria in the south is home to a concentration of carmakers, auto parts suppliers and raw materials producers. They were attracted by relatively low costs and high skills following the fall of the Iron Curtain. They make everything from small cars for Toyota Motor Corp., Fiat Chrysler Automobiles NV and PSA, to compacts for Kia and Skoda family saloons and Audi TT sports cars for VW.
The problem is that a conventional automobile needs more than 20,000 parts to run, while an electric car can use as few as 7,000, creating a more cut-throat market to feed factories, said Matjaz Schroll, head of private equity for central and eastern Europe at Franklin Templeton Investments.
"The Germans may try to protect their own suppliers and could cut off the suppliers in eastern Europe unless those suppliers will be able to make this transition, which I think is going to be extremely difficult," Schroll said at a recent Vienna conference. "It could have a huge negative impact."
Slovakia and its 5.4 million people have the most on the line. The auto industry helped cement the transition from communism to capitalism and turn the country from a backwater to euro member. The economy has now almost doubled in size since the year before Slovakia joined the European Union in 2004, to about $90 billion.
The e-car development is inexorable. Within two years, electric vehicles will represent as much as 8 percent of total sales globally, Moody's Investors Service said in a report on Jan. 23. In 22 years, electric cars will make up 54 percent of total new sales, according to Bloomberg New Energy Finance.
"If we don't want to fall asleep — and we don't — we'll need to adapt," Peter Ziga, the Slovak economy minister, said on Jan. 31. "Many carmakers have announced target dates for going completely electric, including those that operate here. We will not just passively watch the development, but we will be also active partners."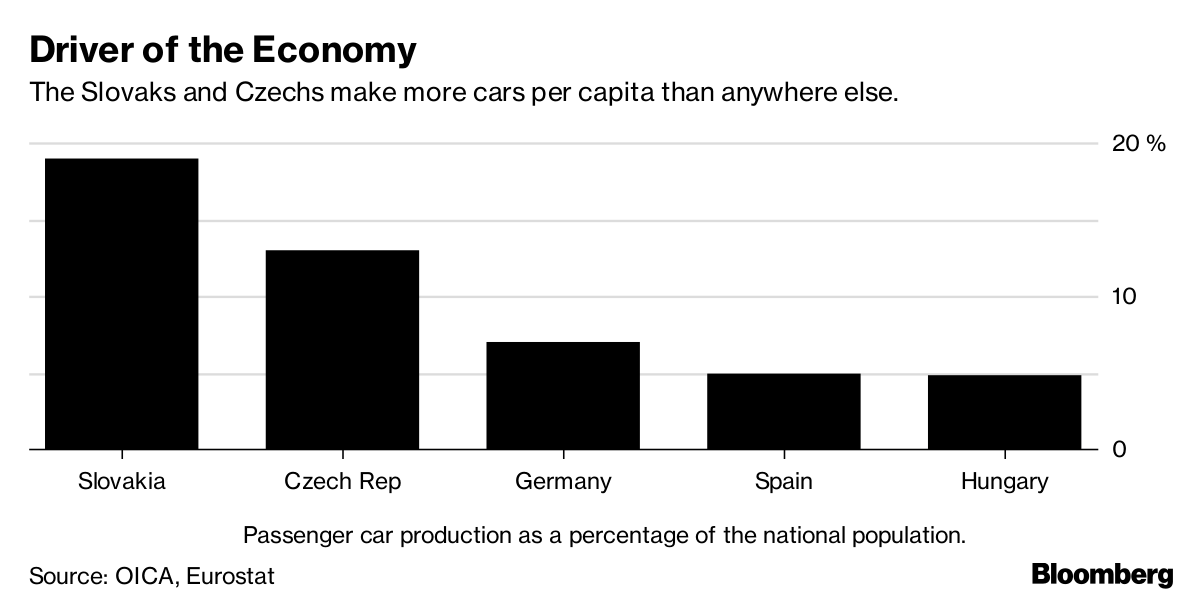 VW's plant in Bratislava, which employs almost 12,700 people, has been producing the e-up! in Slovakia since 2013.
The German company's main regional subsidiary, Skoda Auto AS in the Czech Republic, is planning five all-electric models beginning in 2025. PSA in western Slovakia plans to produce e-vehicles and already halted building a new combustion engine facility, according to spokesman Peter Svec.
At the Jaguar Land Rover Automobile Plc plant, still under construction in Nitra, central Slovakia, the British company has applied for permission to add a new wing, chiefly for battery production.
Ground-breaking for a plant by South Korean battery maker SK Innovation Co. will begin this year in Hungary and Continental Automotive GmbH announced plans for an electronics component factor in Lithuania, which can also include electric car parts, said spokeswoman Alena Liebram.
"You can see that there is a heavy concentration in the car industry and this matters, especially in the supply chain," said Doris Hanzel-Weiss, an economist the Vienna Institute of International Economic Studies and the author of a report on the region's industry. "This is very important for eastern Europe."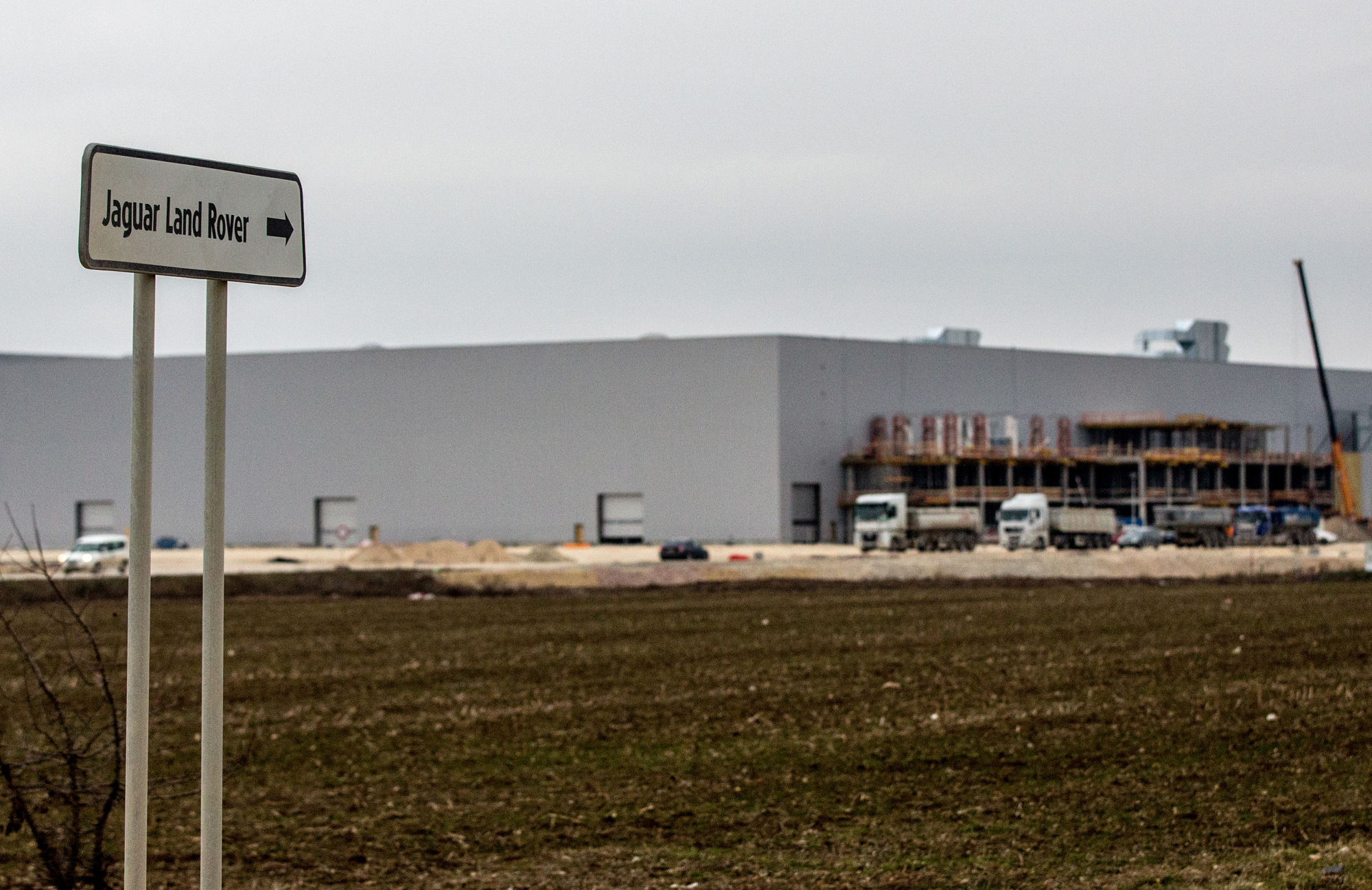 Official website: https://www.bloomberg.com/news/articles/2018-02-08/electric-cars-threaten-to-leave-this-european-nation-behind